CentraSep Technology
CentraSep is the ONLY single-motor, vertical, self-discharging, automatic centrifuge.
See Video of How CentraSep Works in Situations with Multiple Fabrication Machines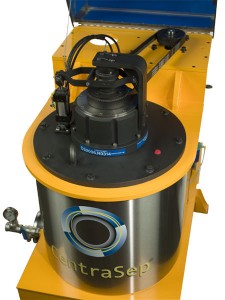 CentraSep features a proprietary, patented design-a high-speed solid/liquid industrial centrifugal separator. CentraSep combines an innovative bowl/blade clutch design with a single AC motor and variable frequency drive to automatically extract particulate from virtually any liquid. CentraSep is able to remove up to four times the quantity of fines that traditional centrifuges filter out and extends the fluid life for any given process exponentially.
Every CentraSep component that comes in contact with process fluid is 316 stainless steel, allowing the centrifuge to process a great number of acidic and caustic fluids safely and reliably.
Other innovative features include an accelerometer to constantly monitor vibration, advanced PLC (Programmable Logic Control) programming and the latest variable frequency drive technology that, coupled with the PLC, offers automatic adjustments to provide optimal system performance.
Top of Page