Laundry Wastewater Filtration
Laundry wastewater is produced from large laundry facilities that wash uniforms, towels, floor mats, mops, etc. Often, these items are washed on a daily basis by industrial or commercial laundry facilities. The laundry wastewater generated contains sand, grit, lint, oil, grease, heavy metals, and volatile organic compounds (VOC's). This laundry wastewater must be cleaned and treated, which typically involves several phases. CentraSep Centrifuges has simplified a portion of these phases with a superior laundry wastewater filtration system used to remove solids and sludge from the laundry wastewater.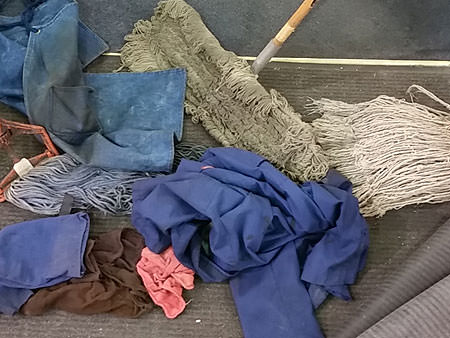 CentraSep Centrifuges installed their first laundry wastewater filtration and separation system in 2005. Since that time, CentraSep Centrifuges has become the preferred solution for filtering and separating laundry wastewater and is considered part of the "Best Practices" of the world's leading industrial laundry service facilities. Today, CentraSep Centrifuges offers custom turnkey industrial and commercial laundry wastewater filtration packages that provide for rapid installation, simplicity, high performance and reliability that is unrivaled in the laundry wastewater filtration industry.
While the competitive landscape of the commercial and industrial laundry services industry continues to increase, employing the most effective laundry wastewater filtration and separation solution can dramatically and positively impact your bottom line. Our experienced and dedicated team of engineers, technicians and manufacturing personnel understand the industrial laundry industry, and they will work with your team to develop a process improvement centrifuge filtration system.
Contact us today to see how CentraSep Centrifuges can help you with your laundry wastewater filtration application.
Benefits of the CentraSep Centrifuges Laundry Wastewater Filtration System:
Fully Automated System
Standard 316 Stainless Steel Construction
Lowest Maintenance in the Industry
No Disposal Media Paper
Reduced Labor
Extended Fluid Life
Reduced Pollution and Environmental Impact
Solid Separation to the Single Micron Capabilities
LIFETIME WARRANTY option available
CentraSep Centrifuges is more than a centrifuge manufacturer; we are a Filtration Engineering Solutions Company.
Talk to one of our Engineers today to see how we can help with your industrial and commercial laundry wastewater filtration and separation needs.
Top of Page