May 2016 - CentraSep Centrifuges has come a long way since its beginning in 1981 as a filtration products distribution company. After becoming the largest distributor and installer for a line of centrifuges, and seeing the strengths, and mostly weaknesses, in not only that centrifuge, but all the centrifuges on the market, they knew there had to be a better way. At that time, Centrifuges had a reputation for poor reliability and performance, but the concept was sound. CentraSep listened to customers' challenges and their requirements concerning their filtration and maintenance of process fluids, and they went to work.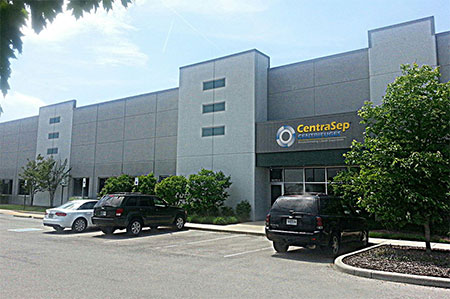 CentraSep's engineers, using that knowledge and a unique concept, designed a new centrifuge that eliminated the mechanical complexity, and added robustness, while making the centrifuge stronger and more efficient. The resulting product, "CentraSep," was born. This proprietary design is protected by patents worldwide and has been successfully proven in the most demanding applications, with hundreds of installations in 22 countries, in plants and on ships and drilling rigs, etc.
Today CentraSep serves a long and diverse list of industries and applications, including all types of Glass Fabrication, Water Wash Paint Booths, Wire Drawing, Laundry, Insulation Production, Plating and Coating Processes, Waste and Process Water and Fluids, Washing and Rinsing Processes, Sewage and Water Treatment, Sludge Dewatering, and many, many more. The company also provides Engineering Services for all types of filtration and separation systems. With more than 30 years of experience, CentraSep is truly a comprehensive Filtration Engineering Solutions Company.
You can talk to one of our Engineers today to see how we can help you with your filtration and separation needs.